Fleshgore is one of those bands that I liked just for its name at the beginning of the 2000s, and I remember that their EP "Interuterine Dilemms" (2002) came into my hands. Presenting Brutal Death Metal at a very good level, but I didn't know where they came from those years, so for a few years I lost track of them and I was only able to find them again with their second album "May God Strike Me Dead" (2006). It was a direct and brutal album, and they already came with the label that they were Ukrainian, so I got a little more interested and I followed their path through their different changes of sounds and styles until I reached this last album "Carnival of Flesh". Presenting that Brutal Death Metal matrix with many doses of groove and influenced by bands like Skinless, Dehumanized, Pyrexia, etc. For this reason, Metallerium interviewed Igor and Sad, veteran members of the band since its inception.
Para leer la entrevista en español: Entrevista a Fleshgore
Metallerium: Welcome, Igor and Sad to Metallerium pages. It's a great pleasure to talk with you about Fleshgore, this new album "Carnival of Flesh" and more things relating to the metal world. We begin to ask you, how have you been during the crazy times? First, we lived through a pandemic, now a war in Europe. How are you during the transition of this war?
Fleshgore:
Igor: hi! Thanx, we are fine and safe at the moment. I think we have the luck that our brave army stops Russians in few miles from my home. Because during the first months of the war, we got a lot of explosions near my house and rehearsal room. That was a really dangerous time when most people left their houses and the city was empty. But I stay at home. It was a little scary but I used that time to finish the album mix)
Metallerium: Talking about the war and pandemic relating to the last album. Did you write and record this new album during the pandemic? Or was it before the pandemic? And perhaps did you have some trouble recording the album for the quarantines and lockdowns? Or perhaps the war affects the release day of this new album? Who knows!
Fleshgore
Igor: We recorded drums a long time before. also, guitars, bass, and part of vocal lines were recorded right before the war. So, we recorded vocals for a few songs when the war started, and also, mixed them under the sounds of explosions and sirens
Metallerium: One of the details that capture my attention since the beginning was the name "Fleshgore" Cuz from then to now. You're the only band with that name with more than 20 years in the whole metal world, especially with a catchy name. Who came up with the idea to put Fleshgore? Cuz it's a good one and it's weird that other bands don't use the name. Perhaps a special conception of the name. :)
Fleshgore:
Sad: The history of the creation of the name/title Fleshgore comes from the time when our first vocalist Dmitry invited me to the no-name band, hehe. The guys were already in full swing rehearsing their first material and were still looking for a name/title for their band. And I have always been fond of various terrible death-medical and other buzzwords, so I just had to use this opportunity, haha. The simplest thing is to take the name of some cool track from one of your favorite bands, as many others did, but I wanted something really original. I decided to make a list of the most different options, using the most terrible modifications of words. As far as I remember, the list turned out to be quite long and the most difficult thing was to choose the coolest of all this shit, haha. Igor coped well with this choice, almost immediately he pointed to the Fleshgore, and we didn't argue too much. The name/title turned out to be capacious, easy to pronounce, and, probably, easy to remember. And more importantly, it did not have any subtext or doublethink, it was just the most ordinary "caked flesh", which fit well with our context of music and sound.
Metallerium: You start the band as a Brutal Death Metal, but in some albums, you decided to include more deathcore sounds and thrashy elements. Did you think that the new member's influence to include these elements on the sound of Fleshgore?
Fleshgore:
Igor: In albums of the middle era with deathcore sounds and thrashy elements only. That was a time when I played with other musicians and it included their ideas and influences, but in 2013 we back to the roots, and I made the most of the music. Also, our original guitar player Sad returned to the band now and the next material will be definitely death metal with no compromise!
Metallerium: Talking about this new album "Carnival of Flesh". For you what are the main differences compared to old records from Fleshgore? I love this one with old brutal death sound like Skinless, Pyrexia, Dehumanized, etc. Which bands influenced you to create this new one?
Fleshgore:
Igor: Yes, I definitely try to make quality and clear old-school sound on our new album. And you are right, we really like the sound of all these bands. The main bands that influence me are Pyaemia, Disavowed, Dying Fetus, Pyrexia, Internal Bleeding, and early Misery Index. So, if compare it with our releases I think it is the best release we ever made.
Metallerium: Talking about Brutal Death Metal style from the early days to this new generation. We see these years that some bands experiment with different elements, where the style turns into other things and even ends up having clean and unsaturated guitar effects with other guitar methods. If we talk about a band -for example- this happened with Deeds of Flesh, because at the beginning of "Trading Pieces" (1996). The band was a Brutal Death Metal machine, but then in "Of What's To Come" (2008) the band became one of a more technical style within Death Metal. What do you think about this change in Brutal Death Metal bands? Do you think that because of the technical level of a Brutal Death Metal band, the extreme music ends up being clearer and more polished?
Fleshgore:
Igor: I think it is normal that every band evolves over the years. it is the evolution of the band. Coz it is very drearily playing the same ideas on every next new album so bands try to make some experiments for every future release. The case is different, often fans want to hear what they are used to and the new album may not be to their taste. But also, sometime over the years, they like it, coz their taste changed also.
Metallerium: Relating to this, could you describe the biggest difference that existed between Technical Brutal Death Metal with Brutal Death Metal? Or this case is impossible.
Fleshgore:
Igor: Technical BDM has more technical musical ideas. For example, guitar sweep or other guitar techniques, also it has a difficult song structure or time signature. Normal brutal death uses these ideas less and has a more brutal sound. anyway, many bands play it on the edge between the styles. But anyway, it is all Death Metal! or somebody said: all we are play rock'n'roll! :)
Metallerium: We're very close to ending this interview. For that reason. What are the future plans that the band has for this new album? Videos, Tours in Europa, the US o who knows in Latin America.
Fleshgore:
Igor: Our new album Carnival of Flesh just came out. Yes, we plan to do some videos. And also, we have a plan to play in Europe (Litva, Latvia, Poland, Germany) this January. We have booked a little tour of around 10 shows. and now we waiting for official permission from our government to cross the border in Jan. Coz you know now is a war in our country and the border is closed for every man (18-60 years old). So, we hope for a positive decision. if everything will be fine with it, we will try to do the next part of the tour later. But what we want is the end of war!!!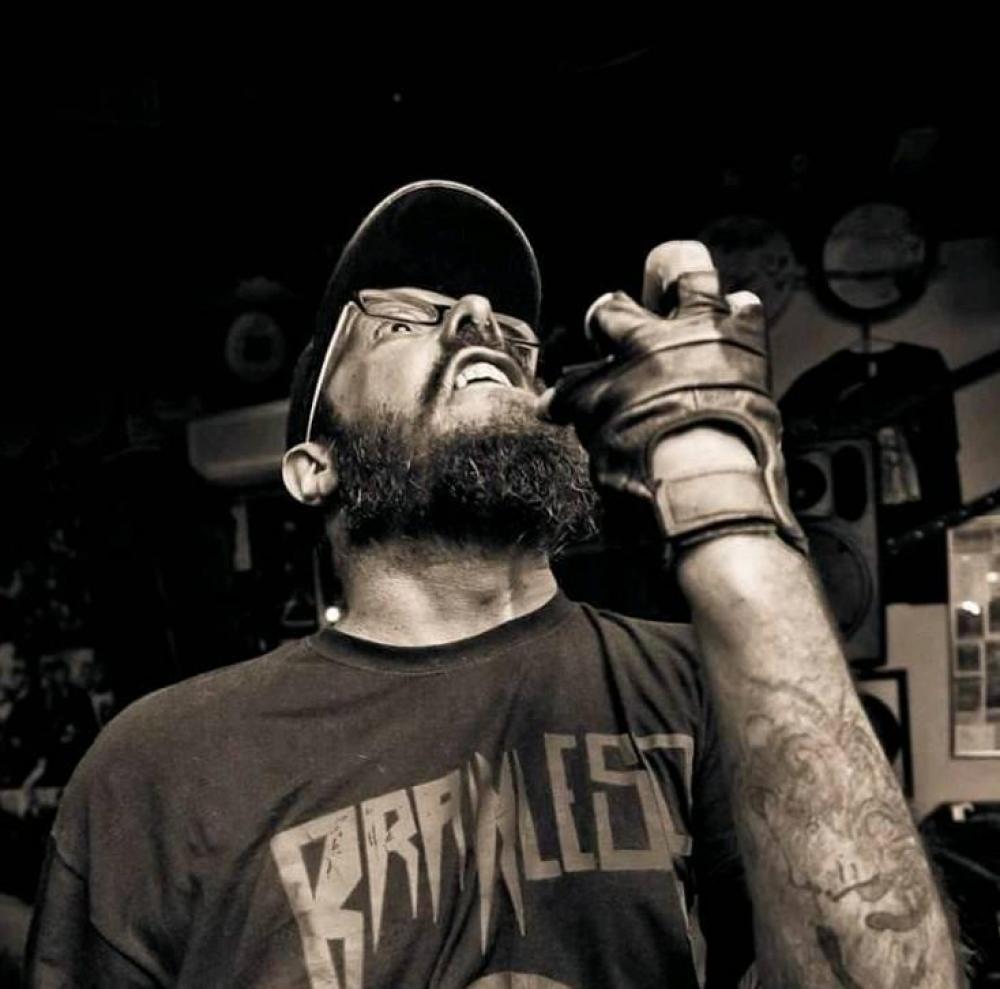 Metallerium: Something interesting nowadays is how Artificial Intelligence is now available for more and more people. We can send a description and the A.I will deliver a picture of what we describe with stunning results! Do you think that this will be used to design covers for Metal albums in the near future?
Fleshgore:
Metallerium: Also, what do you think about the digital platforms and the way people consume music too fast focusing more on singles than complete albums?
Fleshgore:
Igor: I am interested in full albums only) so I don't pay attention to singles) Anyway, digital platforms are a good possibility to spread your music in the mass digital market and maybe get some $$$ from sales.
Metallerium: Well, Igor and Sad. The sad time arrives at this interview. I hope you enjoyed this one like me doing this one. Congratulations on the last album. Anything wants to add to your Latin American fans and Metallerium followers?
Fleshgore: Thanks a lot!! And we hope we will play sometime in your area too!