"As in Gardens, So in Tombs" by …and Oceans is an album that enhances their collection, keeping them in the status of being one of the most forceful, accelerated, and symphonic bands in the Black Metal world of our time. While people or the media look for in their lists that they have more pomposity on the keyboards, the Finns, as they belong to a personal lineage, banish all that idea and establish themselves as one of the great references of the style since the 90s. A great record for a band that does not lose its way and continues creating records like these that will last over time for many more years. That's why Metallerium, interviewed Timo Kontio due to the release of this new album.
Para leer la entrevista en español: Entrevista a …And Oceans
Metallerium: Welcome ppl from …and Oceans to Metallerium pages. It's a great pleasure to talk with you about the band, this new album, and more things related to the metal world. The second album in two years after your amazing "Cosmic World Mother" (2020). How does the band feel with two productions to promote on tours and concerts?... Because now things look better to promote both albums as they should.
…and Oceans: Well, it would be the time to get the chance to promote these albums as they should. Unfortunately, the tour planned for September was canceled. The new tour is planned for next year. Of course, there are challenges nowadays with costs and schedules, etc. We got a new booking agency as well and we start to get things going.
Metallerium: Again, you're working with Adrien Bousson for the cover of this new "As in Gardens, So in Tombs". How was the process of creating the cover? Was it completely made by Adrien? or did you send some sketches to give him ideas about the new album? By the way, this cover is awesome.
…and Oceans: Everything is made by Adrien from start to finish. Mathias sent all the lyrics to Adrien and the cover art and the rest of the artwork are done according to them. Hints were given by Mathias, but there are interpretations by Adrien as well. Adrien sure does great artwork.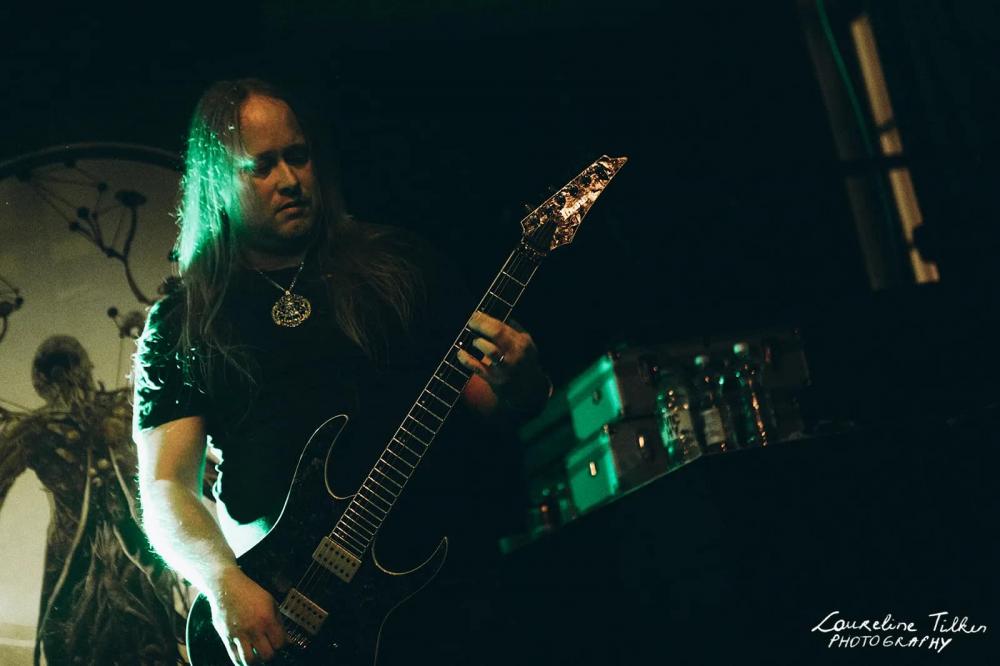 Metallerium: I completely heard this "As in Gardens, So in Tombs". Where I found some industrial elements from your past, for example on S/T or "Cloud Heads" songs. Does this mean that you could unconsciously go back to their "A.M.G.O.D." (2001) or "Cypher" (2022)? or perhaps it's a detail that it's never forgotten in the sound of ...and Oceans.
…and Oceans: I think that will always be a part of …and Oceans sound. Maybe not in that way like in "A.M.G.O.D." (2001) or "Cypher" (2022), but more like an ingredient and not the main course so to say. This time there is that sound here and there. We are not putting anything to the songs just for the sake of it, it really has to serve the song.
Metallerium: What can we expect in terms of sound and lyrics on this new album? What are the strengths of this new album compared to the previous one?
…and Oceans: I think the sound is very balanced and you can hear all the instruments as they should. It can be difficult when having a lot of keyboards and leads all at the same time competing for the frequencies. I think the overall sound is better on this one. Better songs obviously. Maybe even more variation on this one. That can be a strong point too.
Metallerium: Usually when a band releases a new album. The band thinks that this new one is the best work for them as a cliche. But the counterproductive thing according to this is the feeling of the fans with the first album and usually many reviewers said that the first two from ...and Oceans are the best to date and the incomparable jewels of the band. And I think as a fan of music as you are, you have these thoughts of your main influence bands metal, rock, jazz, etc. What is your opinion on this matter? Do you think the last album from …and Oceans is the best work until today? o perhaps you have one special album that no one thoughts.
…and Oceans: This is a really natural way of thinking. For me, all the 90s and 80's music and bands and their records are the ones that hit me when I was at a certain age. Discovering all these great bands and music styles. Quite often the first album you hear from a certain band has a special place in your heart (if you have one). It is really rare that a band releasing an album since the 80s or 90s could do their best album today. That is why (one reason) most people think that our two albums are the best ones since they came at the point when the listeners were in their teens or whatever and were heavily influenced by everything that crossed their path. One thing is that bands released their early albums at an early age. Playing wasn't maybe the best, equipment wasn't the best and the studio wasn't the best, but they had the youthful energy and the need to prove themselves so they really put everything they had into those first records. So all of these factors affected how the albums of that era sounded and they have that certain feeling.
Metallerium: What about your ideology? Today I feel that your lyrics have much more knowledge expanding your cult, but at the same time, I feel that there is a stronger demand to be able to understand the message. How do you feel about the public you are reaching? Do you think there is a suitable audience for this art? Or leave it to free interpretation?
…and Oceans: I think that our lyrics have always been great. Weird yes, but well thought of, etc. Our original singer and new singer do lyrics with deep thought. Not just word gaming and rhymes etc. They always have room for interpretation.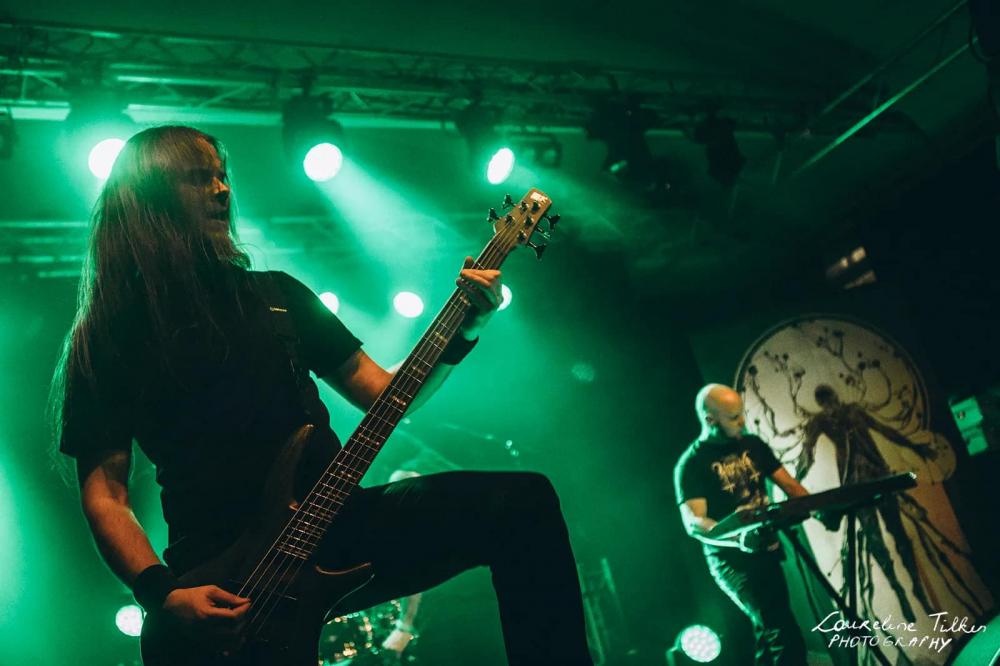 Metallerium: Relating to the last question. What are you think about the bands around the world talking about Satan, the devil, and demons as a trend in Black Metal style? Cuz now many people in the world see satanism as a religion and even they have churches, rules, and books around the world. Do you think that Satanism will be another religion like Christianity, Buddhism, etc?
…and Oceans: I think it is a bit wrong to say it is a trend. I mean that is what black metal was about in the first place, right? Being satanic. Over the years there have been sidetracks from this ideology within this genre so to speak. A lot of bands stating not black metal even though the music sounds the same, but the lyrics, image, and ideology are not satanic. This was the case with us too. We did state back in the day when interviewed that we weren't really black metal because of these aforementioned reasons. Still, our music is always categorized as black metal, melodic black metal, or symphonic black metal.
Yes, there seem to be 'churches' for them too. Really haven't followed who is behind those etc. but I think satanism is a lot about individualism and 'do what thou wilt'. Individualism is what suits me.
Metallerium: I remembered when Black Metal came out in the 90s all records were very raw and the philosophy of all bands was talking about the darkness, misanthropic, culture, and more. But now with the digital era, many bands have better sound, great production, and more things. Therefore, what is your opinion about the actual scene on the Black Metal with more technical, progressive, and depressive/pop staff on their rhythms? Do you think these bands saturated and lost the essence of Black Metal?
…and Oceans: Well, that can be one reason. The same happened to Death metal back in the day. This is just the natural behavior of humans, haha. Searching for something new. This doesn't take away anything from the music though. There will always be those old great albums of pure black metal and maybe someone will do that even today. You will always have bands that will keep on doing the primitive and raw stuff, for sure. If I need to listen to that kind of music, I turn to them.
I think that the better sound phenomenon started more or less with Dimmu Borgir and Enthrone… album when they visited The Abyss studios. For me, it really doesn't matter though those lo-fi albums tend to have more of a feeling of what I want from black metal, sure better-sounding albums can create that feeling too. Maybe it has nothing to do with losing the focus or the essence of black metal. I, as an artist, like to have that right to do whatever floats my boat, haha. That is really important as an artist, to do exactly what you like and not what you are supposed to do in order to fit a certain genre or whatever. If that is lost, then no way one could last this long in this music 'business.
Metallerium: After 27 years of existence with …and Oceans and with "As in Gardens, So in Tombs" as your 96h Full-length. And perhaps is more than 27 years, cuz usually the bands start two or three years before the official year of formation. Now you have more experience with a new record and sometimes the feeling changed over time. Therefore, how did you see the growth of …and Oceans through these 27 years? And does the feeling you had 27 years ago still there when you release this new album?
…and Oceans: Yes, it has been quite some time from the start of this band. It feels like a lifetime. Of course, when I got the debut album in my hands it was something else and it is not the same today with this new album, but of course, it is always a great feeling to release your own stuff. It is always exciting to get the album out and get people to hear it. Upcoming gigs to promote it. Playing those songs first live etc. Great times!
Metallerium: We're very close to ending this interview. For that reason. What are the future plans that the band has for this new album? Videos, Tours in Europa, the US o who knows in Latin America.
…and Oceans: We have been releasing videos along with the single releases. Tours have been planned and unfortunately canceled and changed plans all the time, but we are working hard now to tour next year and promote this new album. All the possibilities for the CWM album failed unfortunately for several reasons. The US is something that we have been discussing and maybe someday. Latin America would be great too. There just has to be a demand for that and someone willing to do some work for that. This could be possible though, I mean we have always had a great following in Brazil, Columbia, and Mexico, etc.
Metallerium: Something interesting nowadays is how Artificial Intelligence is now available for more and more people. We can send a description and the A.I will deliver us a picture of what we describe with stunning results! Do you think that this will be used to design covers for Metal albums in the near future?
…and Oceans: I have seen that happening or at least people showing on social media these covers done with that. I think the 'real' artists won't like this as they might be afraid of losing something here, but I think the bands will always appreciate the real art over these. Sure, this can be an easy solution for starting bands who don't have the possibility to get any real artist to do artwork for them.
Would the next thing be AI doing songs for a band, haha… I really hope not.
Metallerium: Also, what do you think about the digital platforms and the way people consume music too fast focusing more on singles than complete albums?
…and Oceans: I have seen that happening with the youth of today. We can't help it. Just hoping that after hearing one song they would check the rest of the album. It is just the problem of these platforms. All the algorithms drive this way of listening.
Digital platforms are here to stay and we just have to adapt to them the best we can. The physical format is always the thing to me though, but we have to adjust to this digital world too. No sense to stay outside of it.
Metallerium: Well, people from …and Oceans. The sad time arrives at this interview. I hope you enjoyed this one like me doing this one. Congratulations on the last album it's a great one as usual. Anything wants to add to your Latin American fans and Metallerium followers?
…and Oceans: Thank you for this interview and glad you liked our latest album. I just want to say that people please check our latest album of ours (and please support bands by going to concerts and by buying merch, etc. This is the only way we keep live music alive!