There are very good black metal bands lately they have a very high potential say Akhlys, and Leipa, and in this list, I add the Italian band Ad Omega which presents their second full-length album titled "Aphelic Ascent". Because he has once again created a high-quality album, which from its first minute already plays with your mind and takes you into his music full of uncertainty and tension, highly recommended material to listen to. Therefore, Metallerium interviewed Noktvrnal.
Para leer la entrevista en español: Entrevista a Ad Omega
Metallerium: Welcome to Metallerium pages, Noktvrnal, it is a pleasure to talk with you about the band, this new album, and more things related to the metal world. We begin, ¿How have you been during these crazy times? First a pandemic, now a war in Europe. Who knows what will happen in the next couple of years, perhaps a meteor will hit us and America save us, zombie apocalypse, etc.
Ad Omega: I'm fine, even though the world has taken a really grotesque turn. Certainly, what is happening, between health psychodramas, "democratic" restrictions of freedom, and stupid propaganda on the blood of the people, does not leave us indifferent. We must be clear and understand who is trying to manipulate us and why…the enemy is always the human being, it's useless to look for an enemy elsewhere. I don't know what's going to happen in the next few years, but I'm sure of one thing: America won't save us from shit.
Metallerium: Ad Omega is a relatively new band within Black Metal and you have been active for 4 years since 2019. So, what is your goal as a Black Metal band? What moves you to continue making music? Especially with this new album knowing that there are many fans we resist new bands and new releases.
Ad Omega: Connecting with the chaotic energies of my Self helps me to unleash violent and lawless creativity. To make music is a ritual for me, a sacred moment, an apotheosis. Our goal as a band is, as always, to grow from all points of view.
Metallerium: I've been listening to this "Aphelic Ascent" many times, where the sound is layered and very enveloping. But as the days go by and new reviews of the album come out. I see that many put Dissonant Black Metal on this new album. So, could we consider this dissonant concept as a style or is it a tool to create your Black Metal? And how would you qualify within Black Metal? Only Black Metal or do you have another additive to the style?
Ad Omega: Definitions are not important to us; everyone can use the words they want. Of course, we are a Black Metal band. In Aphelic Ascent, we have exaggerated the most dissonant aspects of our sound, which are undoubtedly part of our evolution.
Metallerium: Personally, I consider his new album to be the highest point of his career so far. What is the spirit behind his compositions? Do you think the pandemic helped you to give more personal touches on this new album? Because many artists and bands had time to do better their productions.
Ad Omega: Thank you, we see Aphelic Ascent in this way too. No way, the pandemic has nothing to do with it, we dedicate ourselves to the project maniacally regardless of everything that surrounds us. From the first notes that come out during the composition phase we understood that we had taken the right direction for us, and we let ourselves go freely with a Dionysian spirit. As I have already said, making music for Ad Omega means deifying the lawless Chaos awakened within us and letting it flow into an apotheosis of delirium and transcendence.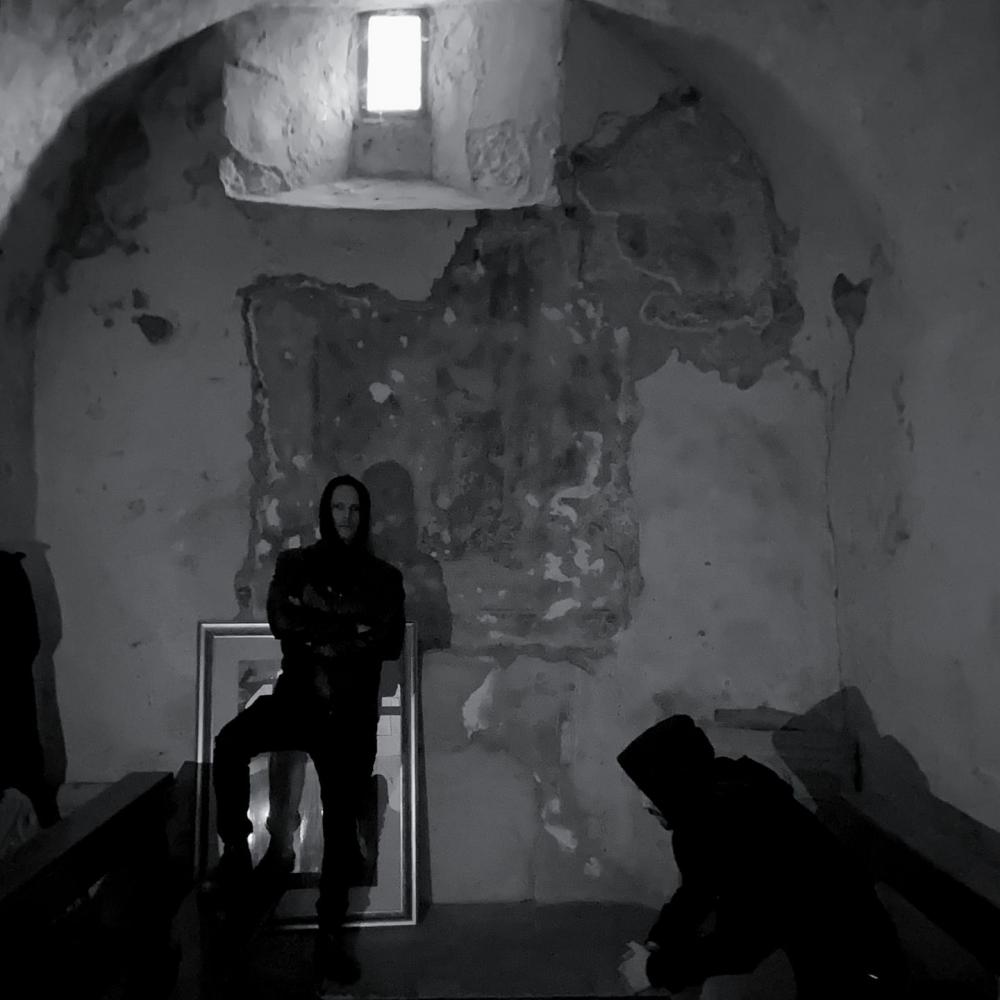 Metallerium: One detail that I was reading into your lyrical concepts is that misanthropy is involved in your lyrics. So how did you view this latest pandemic in the face of this misanthropic issue? Because 3 years ago there were blockades, and quarantines, and people started to distance themselves from each other. Do you think it was a perfect moment to create music that perfectly expresses one of the main theories of Black Metal "Misanthropy"?
Ad Omega: Social distancing was an external imposition, with nothing to do with a self-determined choice. As a human being, I especially hate his nature to be a servant, and these 3 years have done nothing but highlight this aspect. Black Metal should have to do with the Mystery, with the most individual and intimate aspects of ourselves, it should be a medium to break the chains and make us as free as possible…if it's not this, it's just music… but this is not my way to see Black Metal.
Metallerium: Talking a little more about the band and its history. How did the need to make the music you make come to you? I mean Black Metal and how was the story of "Tenebris Templum" (2019) born? What inspired you to create the band and look forward to two albums? What is behind all this?
Ad Omega: The project was born in 2019 and Vindur joined the band after the first two EPs. With him began the work that led to our first full-length "Tenebris Templum", in which our sound finally took shape in an identifying way. I and Vindur had a band together during our adolescence, and finding ourselves sharing a project after so many years and with a different maturity is nice: having played together in the past helps us a lot to understand each other and to structure ideas in an easy way. The genesis of Ad Omega is linked to the desire to experience my darkest and most abysmal aspects through music
.
Metallerium: Do you still consider yourself a fan of the style today? Or are you liking most ppl when they mature and even say that they are not a headbanger anymore, just a music lover? Have they already reached that "maturity" (misnamed)? Although you did not live the golden age of the exchange with Ad Omega, what kind of members are or have been within the Italian scene?
Ad Omega: Honestly, I live Black Metal in a very individualistic and elitist perspective so I find it very hard to talk about categories like "fan", "scene" etc. I often have the perception that many individuals have approached Black Metal without having a profound awareness of what this music is.
Metallerium: Within Black Metal, what always stands out the most apart from the music is the message that comes behind the lyrical part. So, is there something "real" behind the stories that Ad Omega shows us in each record I think there is since many fans of the band are waiting for a song in their native language. Is there any idea about that?
Ad Omega: Our lyrics are hymns that ritualize and bring inner experiences of spiritual and speculative nature to a sensory dimension. I think that in Aphelic Ascent the conjunction between lyrics and music is particularly successful and everything converges toward very dark and chaotic atmospheres. I don't know why, but it has never been my prerogative to write our lyrics in Italian. However, sometimes I used Latin, especially for the titles ("Tenebris Templum" docket), very evocative.
Metallerium: As fans of the old Norwegian and Swedish Black Metal scene, what do you think of the way the movement was organized in those years? Could we say that in Italy there was some level of organization within the different styles? Maybe Black Metal bands consider themselves part of something within Italy or just each one rides his way? What do you think of those old brotherly feelings from the 80s and 90s era?
Ad Omega: Well, I didn't experience the 80s, and in the early 90s I was really too young to be involved in Black Metal ahah! Anyway, what happened in those years has a very strong energy (I am referring above all to the events to which the Black Metal of the beginning served as the soundtrack); I mean, that movement was a true rebel and dangerous avantgarde, and today we should rediscover a bit of that character in order to be worthy of being the "heirs" of that scene… In Italy, there were also really dark, extreme, and noteworthy bands, however, we lacked the ability to be a true organization like the Norwegian Black Circle. From a musical point of view, however, there were some intrinsic characteristics that derived from the prog of the 70s.
Metallerium: We're very close to ending this interview Noktvrnal, for that reason. What are the future plans for this new album? Latin Tour, North American tour, European Tour, who knows?
Ad Omega: We are not a live band; we will probably never get on a stage like Ad Omega. We don't have a plan; we'll just keep on making music over and over.
Metallerium: Well, Noktvrnal, the sad time arrives at this interview. I hope you enjoyed this one like me. Congratulations on the new album and perhaps you want to add something to your Latin American fans and Metallerium followers.
Ad Omega: Thank you so much, AMSG