It took almost 10 years to have a new album from the Russians 7 H. Target, a band that I consider one of the most important bastions within Brutal Death Metal along with Abominable Putridity in Russia, because, although they had many influences on Americans, these two aforementioned bands were always able to place their personality on the usual Brutal Death Metal. So, I was always waiting for this Russian band to release their fourth studio album, and after 9 years they managed to do it with "Yantra Creating". For this reason, Metallerium interviewed Mikhail Panfilov and Alex Menshov, members of the band since its inception.
Para leer la entrevista en español: Entrevista a 7 H. Target
Metallerium: Welcome ppl to Metallerium pages. It's a great pleasure to talk with you about 7 H. Target, this new album "Yantra Creating" and more things related to the metal world. We start with a common question. Why did the band take almost 9 years to release a new album? And the pandemic accelerated the composition process of this new album? Because many musicians in the world had more time to compose and record an album.
7 H. Target:
Alex: Greetings to all Metallerium readers! I'm very excited to talk to you too! In 2014 after the release of our third full-length album "0.00 Apocalypse" (2014) the band took a break. We rejoined after a couple of years with a new drummer, started coming together as a band, went on some European tours, a Japanese tour, and tours in Russia, and we performed at some major European festivals. In 2017 we recorded a 5-minute promo and signed up on Willowtip Records. When it came to the recording of the next album though, the whole process only stressed us out, it didn't feel like creativity. We could not work out the conceptual and the visual part so that it wouldn't dissonate with the music, and musically we couldn't find interesting key points from the compositional perspective, there aroused some discord in the band, and the puzzle didn't come together, as planned. In 2018-2019 our original drummer Mikhail came back to the band, we toured Europe again, started writing new songs, established the concept, and went to the studio the result was not bad, but still not good enough for us, so we took another break for a year.
As for the pandemic, it might be news for you, but in Russia, there wasn't really any lockdown due to the Coronavirus, all restrictions could be gotten around easily, there was some panic in the media in the first days, but life really went on as usual, everybody was hanging out and going to work normally, you could easily go out to a restaurant, to a venue, it's a regular thing in Russia to ignore such things.
We got together again in 2021 with Mikhail and ideas started coming from the first practice. It felt like when we were writing the first album, everything was really cool. We felt and understood that we had come up with something real, and it made going on easy.
Metallerium: Speaking of those people who expect a different sound in this "Yantra Creating" according to a lot of reviewers and fan comments. How would you define the sound of this new album compared to previous records? Why do you think there is a certain idea of the fan that expects bands to change direction in their music?
7 H. Target:
Alex: The reviewers and critics would be right, if they say, that the sound differs from what we used to do. It's 2023, we live in the "new time", we breathe the new time, we hear and feel it, and this all goes into the music we play. The music reflects our feelings, whether you want it or not, but it comes naturally, and the band's individuality is there, it hasn't got lost. Let's take the albums "Fast-Slow Demolition" (2012), "Psy Slam Damage" (2013), and "0.00 Apocalypse" (2014) – everything is composed and played by the same people with the same message, but the time is different, there is new equipment, new guitars, new drums, different sound, but it's still same Brutal Death. There are a lot of new tricks and experiments on the new album that is not usual for this style, but this is the point of our band, we take many ideas and melt them together in one pot. Sometimes when I look at the Brutal Death scene and the people within it, it seems to me that they are stuck in pointless and bland stylistic conventions. It doesn't matter how you perceive our new sound from the start, I can tell you with certainty, that there is more there, than you can hear from the get-go, and you will need to listen to the album several times to understand it. I think that our true fans will be happy to dig around in this sonic stratosphere and find something for them.
Metallerium: Speaking of this new album "Yantra Creating" and within the two singles such as "Creating Gods Arms" and "Meditation" I find the music of 7 H. Target with two places. The Brutal Death Metal is known forever and always places that abstract side in their music. How was the composition process of this new album? Was there any change after 9 years of silence?
7 H. Target:
Alex: You got it right, the album is very alive and fresh, it's full of energy and very heavy. There are some avant-garde moments that are well fused into the song structure without losing any brutality.
You mentioned something abstract, and it is there for sure, but what it is I can't explain, it's up to the listener to figure it out. "Creating God's Arms" is a track full of slamming energy, it's very power-driven, but it has a melodic solo. "Meditation" has a mix of Brutal Death, Prog, and Doom Metal in it. You must watch the video for this song, it is really beautiful!
The composing process went on as usual – we jammed together. We jammed a lot and recorded every practice on a portable recorder, then we went home, listened to the records, and discussed them, and it went on like this for several months, until we decided that the songs were ready. The music gets composed and recorded first, then the vocal parts are done at the last moment. To avoid losing time polishing the material we decided to go record it straight in the studio and work on arrangements and make corrections on-site, so to say. We think that this approach makes music more alive. Normally in the practice room, you hear everything differently due to the power of the amps, the live drum sound, and the room resonance, some details go lost, and something that sounds powerful live can sound differently in the sterile studio environment with clean "fat-free" sound. I don't have the formula of our creativity. In theory a "universal creative technology for everybody" could be created, something like AI to write powerful hit albums, but it is still not around, because nobody knows where it comes from; probably, you just have to wait until it comes out by itself.
The recording approach has changed: in the past, we had 4 days in the studio to do the whole album. This time we had many chaotic short studio sessions over almost a year. When we had free time, we went to the studio, recorded stuff, listened to it in the studio with the sound engineer Arcady Navaho and made corrections if necessary. It's the same studio, where all the records of our band were made. Compared to the sessions for the previous albums we spent more time in the studio, and it yielded some results, because we record with no metronome (this is a principal question for us), and we had to record many takes until the result satisfied us, and this really rocked.
We also played some ethnic instruments, namely mridangam, karatala, ja-ji (a type of karatala), astral whip (fuzz pedal with a hose). It might be the first time that this mix is used in Brutal Death Metal. The cherry on top was the female voice.
For me, it was a challenge to overcome my previous self and create something new, both in a technical and compositional sense.
Metallerium: Another detail that is very striking about "Yantra Creating" is the name "Yantra" because it comes from the mental conception as a creative instrument. So, what is the lyrical concept that you have within the lyrics for this album? Were you based on that Sri Yantra concept or do you have more of a personal perspective?
7 H. Target:
Mikhail: Here the word "Yantra" means structure. There are also meanings "machine", "mechanism". It is about creating a new energy matrix for the Earth. It is about a new world. In the past, our albums were about the fusion of humans and machines. "Cyborgizing" of people. This is a bleak outlook. Nowadays everything changes and the concept is about destroying the machine in the human. About destroying the way of purely material progress with no spiritual component. This process is shown on the album cover. Shiva lifts a cyborg from the water to blow him up. It's time to change to be more human.
Alex: It's not necessary to try to find some meaning in the lyrics, music is a universal abstract language, and the lyrics leave some freedom for the listener to make the best of them. For example, the song "Fire and Places for His Work" is about a specific place in India, ghats in the city of Varanasi, where the dead are burned on the bank of the Ganges River, which is considered to be the spiritual center of India. I visited this place and the impression it had on me was in my head for a whole year.
Metallerium: A bit of history about the band, we all know that 7 H. Target means 7 Human Target. So, does this concept of targeting people still hold within the concept of the band? Or maybe this idea has already changed over the years?
7 H. Target:
Mikhail: How does the 7 Hz frequency influence a human? In case of resonance with human biological rhythm, infrasound can cause death. If the frequency of internal organs and the infrasound frequency are the same, the organs in resonance start to vibrate, which can cause severe pain. Infrasound with a frequency of 7 Hz is deadly for humans. This is one of the explanations, and there is a song mentioning this on the second album.
But the H was never supposed to mean only "human". A choice was given to people to interpret it as they like. This is more interesting, and it takes out the problem of being disappointed because your expectations didn't match the reality.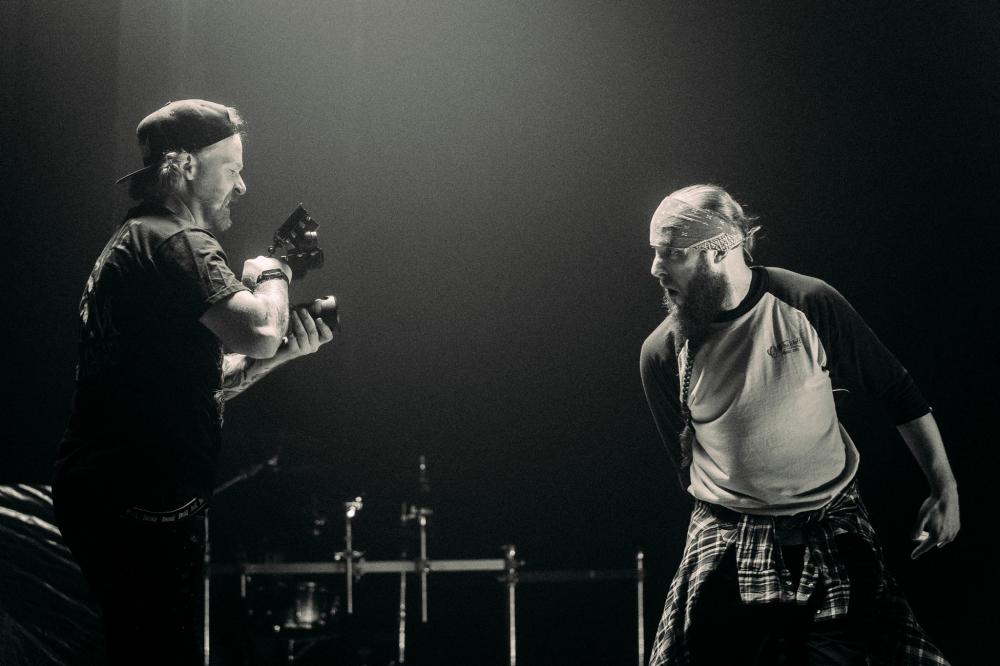 Metallerium: Since last year or I think since 2021 they have been making some announcements about the production of this "Yantra Creating" on social media. Where I see that Igor Filimontsev from Big End Bolt and Katalepsy joined the band to do the vocals. Did you have any other proposals before Igor? Or was it a decision that was made from the beginning? How do you feel with Igor now on vocals?
7 H. Target:
Alex: The decision to engage Igor didn't come at once, it came as we were working on the material. When the demo version of the album was ready, we tried to go our tried and proven way of using the guttural voice of Matteo Bazzanella, who sang on the "Psy Slam Damage" (2013) album and the 2017 promo. He did everything in the vein of those records, it didn't sound bad, but what worked before had an opposite effect on this album.
We have known Igor for a long time and shared the stage multiple times, so we decided to try him. He listened to the new tracks, read the lyrics and ideas started coming out from him, lots of ideas. And when we made the first takes with vocals, everything clicked. We knew our abilities and the style of Igor in Katalepsy, but this time, I think, he opened up from a different angle even for himself. I also want to note that Igor not only has talent and abilities of the throat, but that he is also a rightful composer on this album, because his vocal decisions influenced the general sound of the band a lot, and I like it very much, how the guitar sound goes with the voice. When I listen to the development of the vocal line, I often catch myself thinking, how could he invent this at all; for me, this is our best album in many ways!
Metallerium: Within all the productions, a detail that is the band's trademark. It is that three members always participated, what are the reasons for the band to always have a circle of three people? Maybe comfort for touring and concerts?
7 H. Target:
Mikhail: If we speak about recording sessions, there were always the three of us until 2020. We live in one city; we were friends and we played together. We were not in resonance with the local metal scene. It was impossible to find anybody else for the band. But we needed something really unusual. That's why the decision to stay as a trio and to invite people we like for the recording sessions was very comfortable. Playing live is a different story. It worked out differently and not always in the best possible way.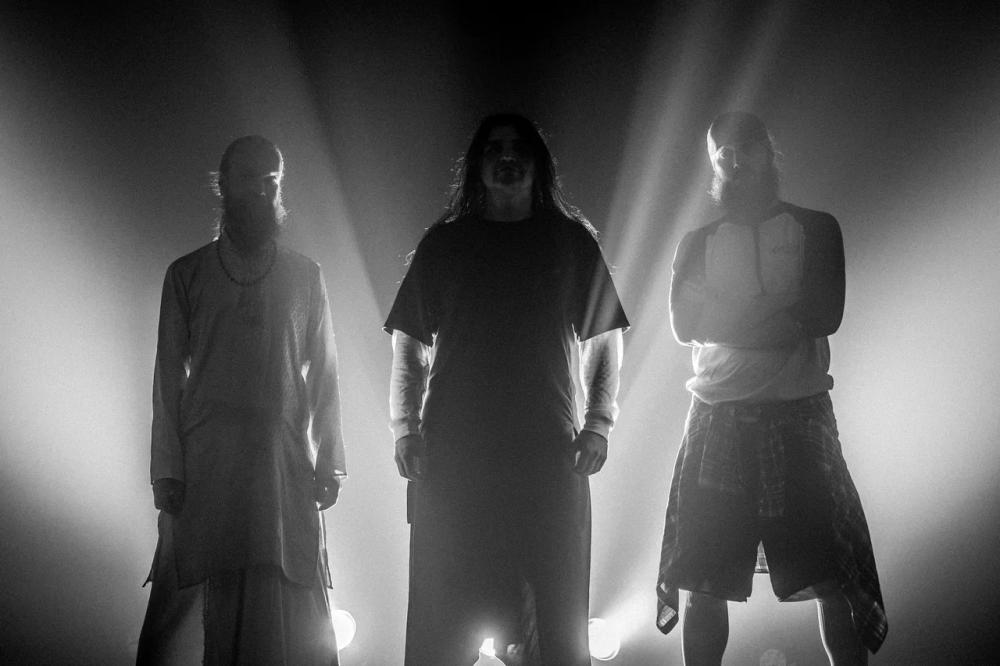 Metallerium: Nowadays it is very easy to relate the covers that the bands have and as a fan of 7 H. Target I see that there is always a main character on the covers. Can we talk about the same character on the four covers of the band? And how could you describe in one word all the covers that 7 H. Target has done so far?
7 H. Target:
Mikhail: On the covers, you can see different characters from different movies. On the covers for the first and the second album, you can see the process of transformation of man into a machine. It definitely stems from the passion for perfection. But it's about technical perfection. Everybody wants to become more powerful. But these things only make the spiritual imperfections deeper. All negative aspects show up stronger by many times. All the garbage in the head influences the world more actively. The result is what is happening on the cover of "0.00 Apocalypse" (2014). The demise of the world. A mere semblance of life. Maybe somebody likes it, though. The new album shows the moment when people change to avoid that end. This is done with the help of other forces, as the cover art shows. Not by the force of people. We are not the masters here, and, what's more, we are not the creators.
We can say that the main character on the covers is your consciousness, which gets in touch with those images, and finds the associations itself. If there is a word to describe all of the cover art, it would be something like "technoheadlessness".
Metallerium: We're very close to ending this interview ppl from 7 H. Target, for that reason. ¿What are the future plans that the band has for this new comeback? Perhaps you are preparing nasty videos to promote this new album. Perhaps a European tour, an American tour, or who knows Latin American tour in the near future.
7 H. Target:
Alex: We shot two videos to support the album for the songs "Meditation" and "Creating God's Arms", the links are on our Bandcamp page. We are working on another video to be released at the beginning of April. As for touring other countries, unfortunately, due to the current situation around Russia, we can't plan anything, and the planning horizon has shrunk significantly. An American and Latin American tour is a dream for our band, if there appears a slightest chance, we will try to catch it.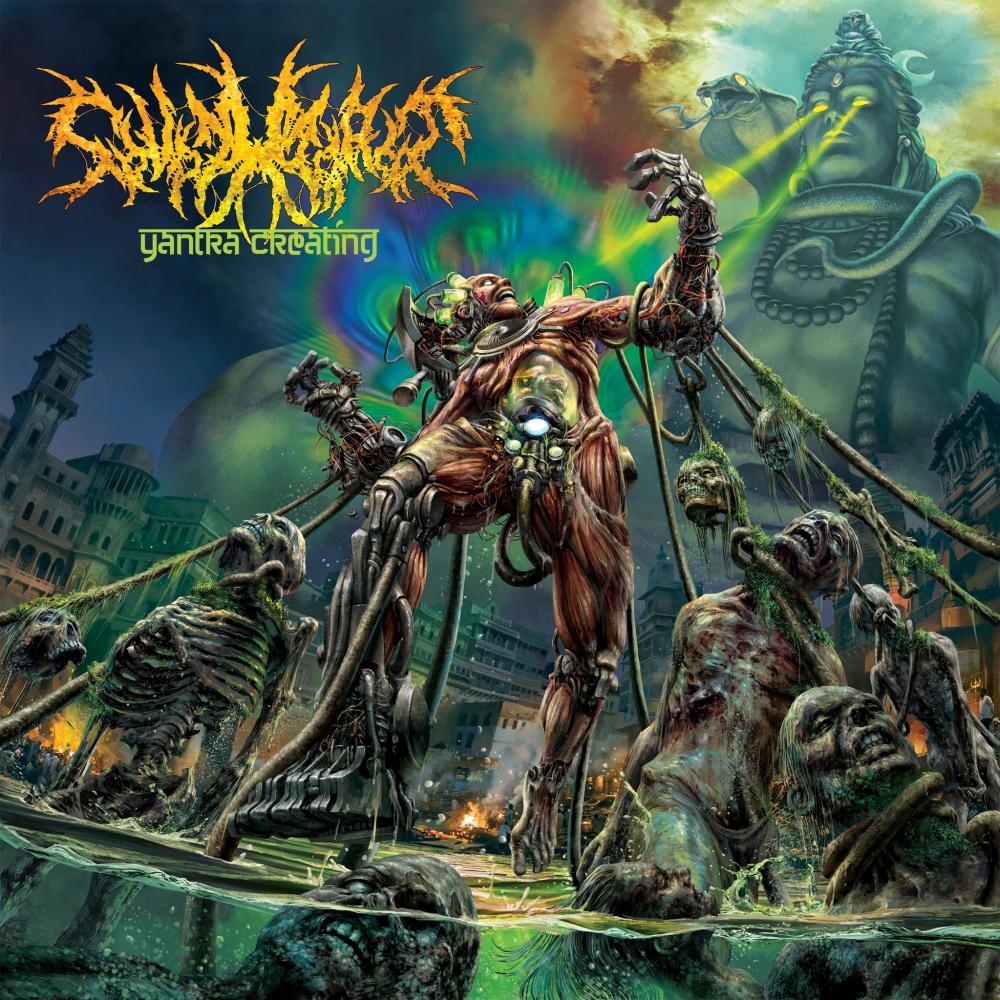 Metallerium: As I said at the beginning and speaking of the Russian scene at a general level in extreme metal. How are these war issues affecting the development of tours, festivals, music creation, and more within metal? Is there some kind of limitation with this war that Russia is experiencing?
7 H. Target:
Alex: We played our last show in Russia in 2019. We don't know what's up on the local scene.
Metallerium: Well, ppl from 7 H. Target the sad time that arrives at this interview. I hope you enjoy this one like me. Congratulations on this new album. Perhaps you wanna add something to your Latin American fans and Metallerium followers?
7 H. Target:
Thanks for this interview, enjoy it and the rest of your day and listen to our album, wherever you are!