FM is a tireless band in the world of Hard Rock, from 1986 with their first album "Indiscreet", the band pushed and continued with many studio productions, compilations, live concerts, and an immense range of live concerts from the 80s to these years. Now with almost 40 years as a band, we have their 13th studio album called "Thirteen" under the great Italian hard rock label Frontiers Records. A release that does not bring major news, although that is not all bad because the band complies with offering what their fans expect of them. This release motivated us to interview vocalist Steve Overland, who tells us about this latest release and other topics.
Para leer la entrevista en español: Entrevista a FM
Metallerium: Welcome to Metallerium website, Steve Overland. Thank you very much for taking the time to answer our questions. It is a pleasure for us to have you in this interview. First of all, how are you? How has the band been in these complicated times?
FM: Hi, good to talk to you and we hope you are well. F.M and I have kept very busy during all of this, and we are all fine thank you.
Metallerium: Your previous album "Synchronized" (2020) was released in the most complicated times because of the pandemic. Did you imagine that we were still dealing with it after more than 2 years?
FM: We decided to go ahead with the release of Synchronised, because we thought we hadn't released anything for a while, and in lockdown, we thought the fans should have something new to listen to. It was a risk, but it seemed to pay off. As for now, I feel we are coming out of the other side and things are starting to get back to some kind of normality.
Metallerium: When did you begin to work on this new album? Was this planned before the pandemic? Also, why did you decide to release a new record considering that the situation may not be good at all?
FM: We had to record this album differently from our normal process, as we couldn't be together in a studio. Luckily we all had studios at home so everybody got stuck into writing and then when we could meet, we picked the best ideas and molded them into F.M songs, everybody had much more time to concentrate on writing, so all of us had equal involvement. We chose to keep pushing on as normal, getting back to playing live and releasing music.
Metallerium: As its name says, "Thirteen" is your thirteenth record. How are you feeling about this release in comparison to the times when you were releasing your first albums? What does this album mean in FM's career?
FM: Every album we make is the best we can possibly do, and they all have equal importance. We're very proud of the record, and fingers crossed the fans will love it too.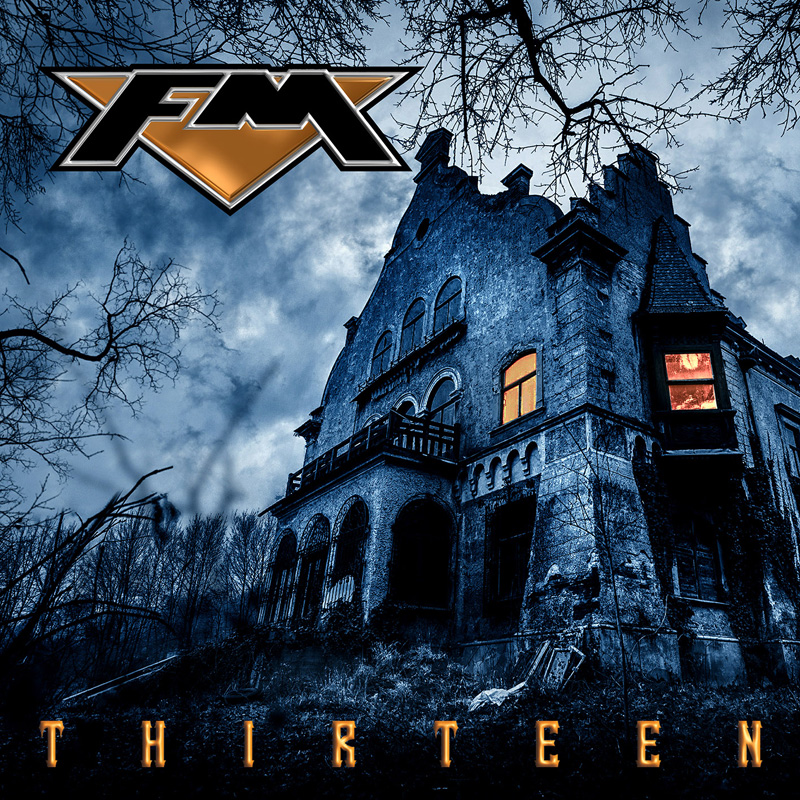 Metallerium: Your music in this new album, as always, is melodic and it makes you feel with positive vibes. What is the key to preserving your sound even in these darker times?
FM: We're firm believers in making music that lifts people's spirits, we just write those kinds of songs, and music should be about entertainment.
Metallerium: On the other side we have dark cover art in "Thirteen". How did you choose the cover art?
FM: The sleeve art for Thirteen, was something Merv found, we messed with it a little and loved the atmosphere of the drawing, it draws you in.
Metallerium: Talking about your sound, I like how you always manage to deliver a high-quality melodic rock. How is the process of composition for you to keep this sound and this kind of composition?
FM: There are no secrets to the F.M sound, strong songs are the key for us, we love writing and recording, our quality control is very high, and you're only as good as your last album.
Metallerium: After releasing the album. What are your plans? What is the situation for the music industry in your country?
FM: Things with touring and releasing albums here in the U.K, are starting to get back to some normality. We start a month of dates in the U.K at the end of March, and then 3 weeks in Europe to follow. We hope they all take place, we just want to get out everywhere and play to all the fans to promote the album properly.
Metallerium: Talking about concerts, due to the pandemic concerts and festivals were all canceled. Many bands looked for alternatives like streaming shows. What is your opinion about it? What has been your experience with digital platforms?
FM: I think streaming your music during the pandemic was a great outlet. We thought about it but did many broadcasts doing Q&A's, talking to the fans, as pretty quickly everybody from small bands to the biggest were streaming gigs. Everybody just did what they could to keep their profile up, I don't know what we could have done without digital platforms.
Metallerium: Since 2010, FM has not stopped in terms of releasing new records every 2 years more or less. Is this the best period for the band? How can you find inspiration?
FM: We love doing this, and never thought after a 10-year layoff, we would get back to where we are. We're all great friends, and never take what we do for granted, we're very lucky, the positivity around the band is amazing, so things are pretty good for F.M despite the troubled world we're all in.
Metallerium: Before we finish. Do you still have time to listen to new bands? Nowadays there are many young bands in the Melodic Rock scene. Why do you think the 80's influence is so important today?
FM: We try to take new bands on the road with us, so I get to see and meet a lot of them. The '80s produced such an array of fantastic melodic rock bands, anyone involved in that genre of music, has to listen and take notice of what came out of that decade.
Metallerium: Again, thanks a lot for your time! Congratulations on the new album. We wish you all the best. Is there anything you want to say to your fans in Latin America?
FM: We'd just like to say, thank you so much for your dedication and loyalty now and down the years. Without you, we couldn't do this and we hope to see you all soon.
Take care and stay safe
Steve O.🌞